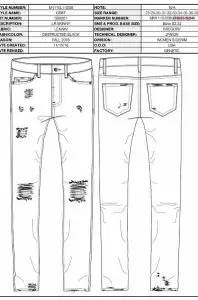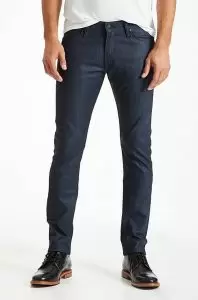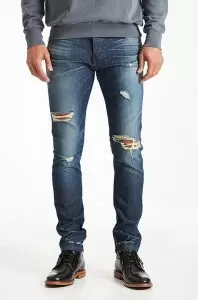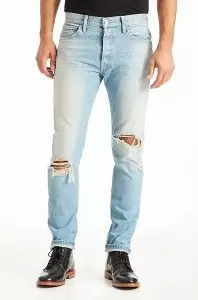 Take the easy way to manufacture 100 pairs of men jeans:
Your design/idea as a drawing or a picture of an existing style with description of changes to make
Get an estimate within 48 hours of your submission
100 to 400 piece production reserved in our schedule
You choose the size breakdowns
Will use closest denim fabric from our extensive inventory
Any wash, any color, any treatment, just let us know
6 to 10 weeks production delivery with sample after 3 to 4 weeks
Allow 3 more weeks if need to develop trim package in parallel
Fully refundable within 5 days of receiving estimate
After ordering this turnkey solution email us with the drawings or pictures of the style you want to make or better yet, mail us an existing sample. Describe the fit, wash and treatments you want. We will make a pattern and a sample and mail it back to you for approval. Production will start once you approve the sample. We send TOP samples upon request.
Fit note:
Our goal is to achieve the precise fit you desire.
A pattern is the best way to match a fit. If you don't have one there is one included with this order.
If you want to try one of your existing women or men fit, please come by our Los Angeles warehouse, you can try them on or order a sample with our brand.
If you have an existing sample of a close fit of what you want, please send it to us with your note on what to change. We can match precisely with an existing sample.
Otherwise, a picture, drawing or sketch is enough for us to get started.
Estimate notes:
As soon as possible after the submission of your jeans, we will give you our best guess estimate. People send us pictures of jeans they want to make and some have printing and complicated treatments. We can pretty much make anything in denim. Upon review of your submission, our pre-production department will give an estimated price for the production of a similar pair of jeans. It is usually within $3 of the actual price we quote after we make the sample. The quote will include a premium denim from our inventory, we can take it out if you want to supply your own fabric.