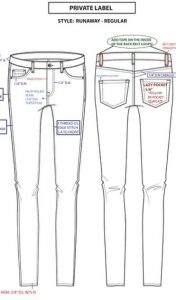 A $135 credit is available when you order the same product for 100 or more samples.

Save $300 value! Order a pattern from this screen (see options) and get a tech pack at no extra charge.
Any ideas for designing your own jeans, jacket, vest, skirt, shorts for women or men
We simply launch a new denim collection or add an existing denim brand. On this screen you can purchase 1 or more samples of your own design. Multiple samples for the same design may be ordered from this screen, however, a  separate sample order should be made for each sample of different bodies. For example, if you want to make a pair of blue jeans and a pair of black jeans, they have the same outline and they can be made to the same sample order, but if you want to make a pair of jeans and a jacket, each pair of jeans should be made to a different order.
Please fill out a request form for each sample you ordered.The link that will be sent to the form in your order confirmation email.
Send us one or more of the following:
Sample (exactly or as close as possible to what you want)
Sketch, drawing or picture
Techpack
Show us a detailed description of the wash, color and/or treatments you want on your denim product. 
Our expert sample makers will:
Create a pattern if needed (please remember to check box below)
Issue a techpack if needed (free with pattern order)
Create a sample
Attach the branded trim you provide or generic trim (buttons and rivets, no main label)
Ship the sample to you for approval
We will give you an estimated production cost based on the quantity you want to produce before we start on your sample. 
Sample turnaround time is 4 to 8 weeks depending on workload and how complicated the sample is. Sample lead time starts after fabric selection is complete. 
Fabric:
We offer a few options to source your fabric:
When you order a sample, we will ask what kind of fabric composition and weight you are looking for. We will send you 3 swatches of the readily available fabrics we have.
You supply us with the name of the mill and fabric code you want.
We put you in contact with our fabric supplier.
For special fabrics, Cordura denim, water resistant fabrics, fire retardant… we can source any fabric, a sourcing fee applies. 
Trim:
The sample will be delivered with generic trim unless you provide your own branded trim. You may also choose from one of our trim development packages. Trim development leadtime is 8 weeks and adds about 6 weeks to the sample lead time. Unless you have plenty of time we do not recommend ordering a sample with branded trim. These can be changed later once the branded trim is received.
Additional samples:
Extra samples for the same body in different fabrics, washes and / or treatments are $350 each and must be added to the cart at the same time as the main sample. There is an option on the right to select up to 4 additional samples (5 in total). You are free to submit any variation request on the same body. This is a great option if you want to see the same garment in different washes, colors and treatments. You can even request different fabrics. 
If this is the first sample you order for that body, we recommend you only do 1 variation. Once you get your first sample and workout all the kinks, you can then order various colors or washes knowing the fit is perfect. 
Production orders:
A denim production order can be placed once you received and approved your sample. The minimum production order is 50 pieces per style/wash, any size combination.